For more than nine decades Walter H. Squires & Son has been a name synonymous with dignity and pride in the profession of Funeral Directing.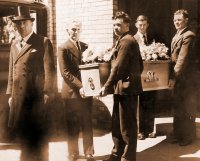 Founded in 1933 by Walter H. Squires, a 26 year old wheelwright and son of a local builder, there were already more than a dozen Funeral Directors in Tiverton. The fact that Walter H. Squires & Son is Tiverton's longest established and only remaining Independent Funeral Directors is in itself a fine testament.
Walter and his wife Bessie shaped the business of Walter H. Squires Funeral Director from very humble beginnings. Initially, the making and fitting of the coffins and the basic preparation prior to the funeral was carried out in a converted stable behind the Swan Inn, in Westexe. The office work and contact with the families was made at Walter's home at 15 Westexe South. The motor hearses and limousines were hired from Mogford's car hire.
In 1948 Walter and Bessie moved to 5 St. Paul's Street where the sign above the front door remained a Tiverton landmark for many years. In the same year, Walter bought the Mission Hall in Westexe North which became the office and Chapel of Rest. The business flourished and soon the first motor hearse was ordered, a black Ford Zephyr. Walter carried on running the business single handed until, in 1969, Peter, Walter and Bessie's son, joined them.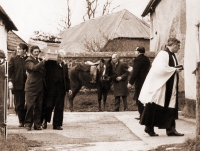 Peter was born in 1939, and left school in 1954 to become a carpenter and joiner. He took an apprenticeship with Soper and Ayres, an Exeter based building firm, and stayed with them until he left to work with his father after which the business became Walter H. Squires & Son.

The business has seen many changes: After the move to the Mission Hall, the Ford Zephyr was replaced with a Daimler DS420 hearse and later Daimler DS420 limousines were added to the fleet - vehicles that remained unrivalled in appearance and grace until quite recently. When the Westexe area was earmarked for development the Mission Hall had to be demolished to make way for the proposed plans and, in the early months of 1983, work on the new premises at 11 Wellbrook Street was completed.
In 1984 Walter fell ill, and the running of the business was placed in the capable hands of Peter. Previously, Walter had ensured the running of the business was entirely his responsibility, but Peter soon made the change of hands seamless. Walter unfortunately never returned to work, and on 1st October, 1985 he sadly died aged 78 years. Despite their devastation, Bessie, Peter and his wife June carried on in the way Walter would have wanted.
Peter and June now took over the full responsibility of the business. The business continued to grow, and soon Peter had developed it to a degree that not even Walter himself could have predicted. Peter and June's son Ryan joined them after leaving school in 1989. Initially his duties were only to fit and furnish the coffins, engrave the breast plates and carry out last offices, all of course, under the watchful eye of Peter. Ryan took great pride in his work and later his duties were increased to meeting families and arranging the funerals alongside his father.
Since the beginning, Walter H. Squires & Son have been members of the National Association of Funeral Directors (N.A.F.D.), a ruling authority who give a strict set of rules and regulations to which every member must adhere, but in 1995 they also joined the Society of Allied and Independent Funeral Directors (S.A.I.F.) the only professional organisation in the UK exclusively dedicated to serving the local independent family-owned funeral director, ensuring that all who entrust their wishes with them will always receive the very best of attention.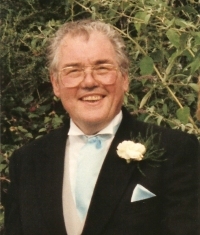 On 20th December, 1997, Peter suddenly passed away at home with his family, aged 58 years. Peter's last night at home was spent among the people he loved and worked so hard for. It was a tragedy that affected not only the family, but Tiverton as well. Through out his life and career Peter had strived to help others, he had a caring nature and a dedication to his work which helped many people through the saddest times of their lives. Tiverton's love for Peter was shown when his funeral was attended by approximately 700 people, some from as far away as Birmingham and London.
After his father's passing, Ryan carried on as Peter had after Walter's death, and dedicated himself, with support from his mother June, to giving the same quality of service and understanding that his father and grandfather had done for so many years before him.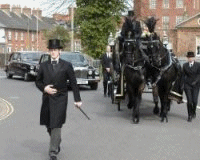 In March of 1998, Ryan conducted the first funeral with a Horse Drawn Hearse that the business had ever carried out, and possibly the first Tiverton had seen for more than 80 years. It was a journey back to a time from which Walter H. Squires & Son's standards and ideals are derived.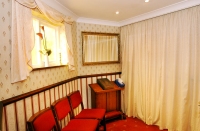 To commemorate 65 years and also the memory of Peter, the Chapel of Rest was refurbished, and on the 5th May, 1998, was re-dedicated as St. Peter's Chapel by the Reverend David Fletcher of St. Andrew's Church, Tiverton.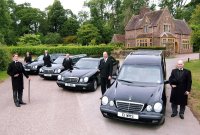 In 2002, the next big change took place: The Daimler hearse and limousine fleet was beginning to show its age, the appearance was becoming dated and the vehicles were needing more and more work to keep them in the immaculate condition for which Walter H. Squires & Son had become so well known. Many replacement vehicles were considered but the decision was made that only Mercedes offered vehicles of a high enough standard. The fleet replacement took place over the next ten months, the hearse and limousines were replaced within ten months, and finally a Mercedes estate was added, completing the Mercedes E Class line up.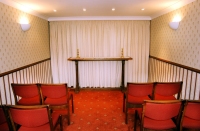 On 2nd April 2004, the business suffered another huge blow. Without warning, June passed away suddenly. As a mark of respect, The second Chapel of Rest, which had been built during 2002/2003 under June's watchful eye, was dedicated as the June Mary Squires Memorial Chapel of Rest on 2nd July 2004. The service was multi-denominational and many of the local Churches were represented.
Thankfully recent changes have had a happier note and have given Walter H. Squires & Son something to celebrate. On June 12th 2006, Ryan's wife Melanie joined the family firm as a Funeral Director and Partner in the business. An informal meet and greet evening was held at the Wellbrook Street premises, giving Melanie a chance to meet with members of the Clergy and Doctors and other local professionals who she will be working closely with. It also gave Walter H. Squires & Son a chance to showcase the recently built private arrangement room, complete with air conditioning. Since the beginning Walter H. Squires & Son has been a family concern, and has been headed by a husband and wife team. Walter and his wife Bessie started the business in 1933. Peter and his wife June continued the family tradition after Walter's death in 1985 and now nine years after Ryan single-handedly took the reins due to the sudden loss of Peter, Ryan and Melanie are able to re-establish Walter H. Squires & Son as a genuine family business.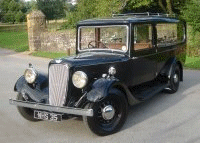 Walter H. Squires & Son now offer a full range of services and advice from the basic funeral arrangements to any related service, including Golden Charter Pre-Paid Funeral Plans, allowing people to take the worry and confusion out of making funeral arrangements.
Since its foundation, Walter H. Squires & Son has built a reputation on dignity and trust, with a caring and understanding service that is second to none and available 24 hours a day, every day of the year.