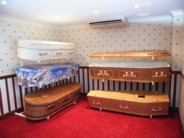 For many people, the task of selecting a coffin is one of the most daunting parts of arranging a funeral. The desire to "do the right thing" and choose a suitably respectful coffin is a very powerful emotion, but accepting that someone you love has died and that you are choosing the coffin they will rest in is difficult. Walter H. Squires & Son recognise this and try to make choosing a coffin for a loved one as easy as possible.
When funeral arrangements are made in the family home the coffin is selected from a brochure containing carefully chosen images of the wide range of coffins Walter H. Squires & Son are able to provide.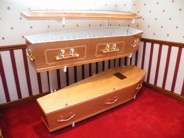 For some, making this important, very personal, decision is not possible simply from a brochure and to reassure themselves that they have made the right choice they need to be able to actually see the coffin, and be able to touch it. When arrangments are made in Walter H. Squires & Son's Cullompton offices the coffin display room makes this possible.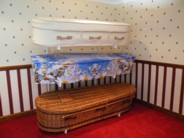 The coffin display room contains a selection of both modern and contemporary coffins, suitable for both burial and cremation, and is designed to not only offer reassurance that the right decision has been made but to also assist the selection process when pictures of coffins are simply not enough. The display room also allows the different types of coffin linings to be seen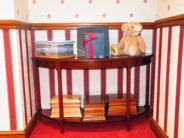 The display room also features a selection of cremated remains urns and caskets.
Copyright © 2019 Walter H. Squires & Son - All Rights Reserved