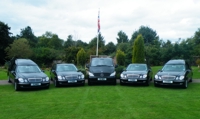 Our main funeral fleet is based on the Mercedes E Class, vehicles which we feel are unrivalled in grace and dignity, and is comprised of a Hearse (registration C1 WHS), two Limousines (registrations C2 WHS and C3 WHS), a second Hearse (registration C4 WHS), three Private Ambulances (registrations C5 WHS, C6 WHS and C7 WHS), and a First Call Hearse/Estate (registration C8 WHS).
Whilst moving forward with modern needs and trends, Walter H. Squires & Son has always been proud to uphold the customs and traditions that have been long since forgotten by so many, recognising that the values and acts of respect set in Victorian times are no less important or valid today.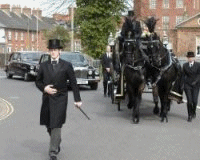 In recent years Horse Drawn Hearses have been reintroduced into Funeral Directing. Seen by many as "the proper way" to be carried to your funeral, Horse Drawn Hearses hark back to a more traditional time. Although we are not fortunate enough to own our own hearse and horses, we have worked closely for many years with a trusted and respected Carriage Master who provides a service second to none.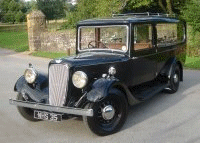 Horses are not the only traditional forms of funeral transport; vintage Hearses have also seen a recent comeback into Funeral Directing. In July of 2005 we were proud to announce the addition of "Stanley", our immaculately restored 1937 Austin 18 Hearse (WHS 35). It was bought over from Northern Ireland in August of 2004 where it underwent a programme of full renovation that was completed in July of 2005.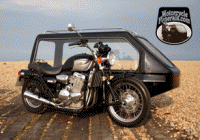 Another popular alternative for the motorcycling enthusiast is Reverend Paul Sinclair's Motorcycle Sidecar Hearses. Please follow the link below to Paul's website for more information about this unique mode of Funeral transport.